A full service digital marketing agency
Our team develops effective content strategies for forward thinking companies. We have a proven track record in increasing search engine rankings.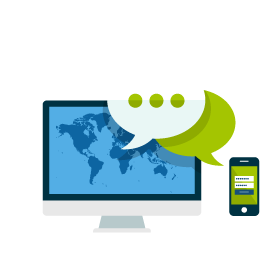 We pursue relationships based on transparency, persistence, mutual trust, and integrity with our employees, customers and other business partners.
Our team of specialists consistently delivers outstanding results combining creative ideas with our vast experience. We can help you build a sustainable, meaningful relationship with your clients by engaging them with your brand using social media.
We work in areas as diverse as search engine optimization, social media marketing, email marketing and digital marketing.
Our Goal is to be the internet provider and the choice for any company in Egypt and the Middle-East, our company maintenance based on the quality of the service, accomplished in a timely and efficient manner by a highly motivated workforce committed to innovation and customer service thus resulting in sustained profitability.
Our Mission is to provide ultimate website solutions to our customers and support them to enhance the ability of their business to become a profitable online marketplace, with providing them with high quality value added and cost-effective services starting from analyzing our customers needs within website design and logo design, website hosting and the most important of them is how to get traffic to your website as we use the latest SEO (Search Engine Optimization) techniques to ensure high ranking in search engines which is the first and main step in being recognized throughout the online business community.
O U R    V I S I O N
The most respected Internet marketing agency. We want to change the way businesses speak, listen and share online.
Our vision is to be an internationally recognized and to be the first choice of customers around the Middle-East by bringing together innovative ideas of internet and contributing our time and money in order to carry out the need of our customers which does not come cheap. We have a vision to fulfill our customers by getting them high quality services at the right time. It has always been our vision to be a leading company in Egypt and the Middle-East in providing ultimate website solutions, known by our high standards of quality, performance and maintenance ... and to ensure that our customers get high quality services at the right time.